One of the remarkable aspects of the Scottish independence referendum has been the flowering of a rich and varied alternative to the mainstream media. It uses blogs, Twitter, Facebook - pretty much anything to get its message across. It is often passionate, inventive, well written, well researched and frequently very funny.
This week the No campaign broadcast a short film of a woman making her mind up as she sipped from what looked very much like an empty mug in her kitchen. It is fair to say that the film bombed and was instantly the subject of hundreds of memes, spoofs and send-ups, collectively using the tag Patronising BT Lady (BT standing for Better Together).
The unionist camp dismisses this new alternative source of news and opinions as the work of
cybernats
. The word is used contemptuously to convey an image of obsessive, nasty people who sit in their lonely garrets spewing out their bile on social media. Unpaid and probably unwashed alternatives to the sort of thing produced by the good old mainstream newspapers and broadcasters who are, of course, overwhelmingly against Scottish independence.
Here is a columnist in Murdoch's
The Sun
commenting on the Salmond/Darling debate: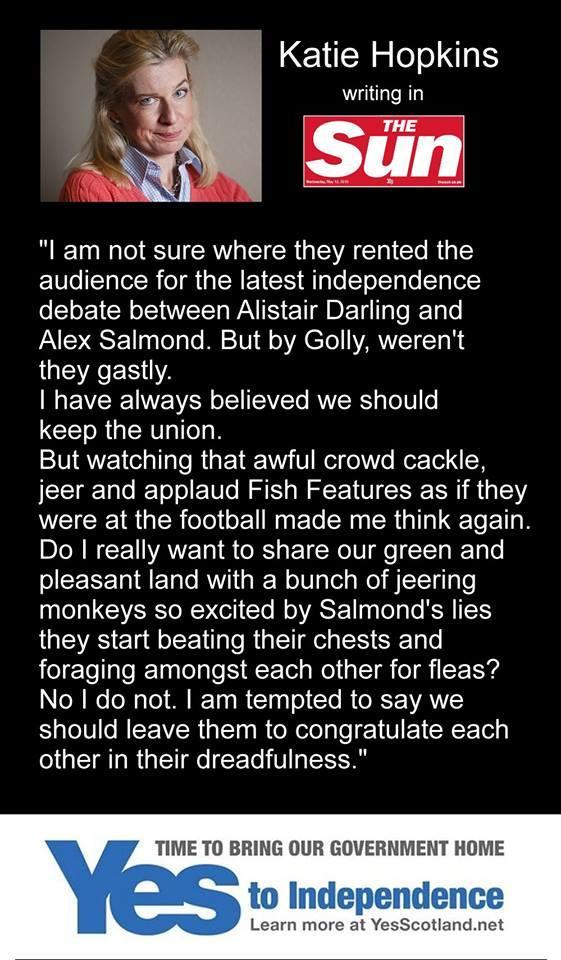 "I'm not sure where they rented the audience for the latest debate between Alastair Darling and Alex Salmond. But by Golly, weren't they ghastly.
I have always believed we should keep the union.
But watching that awful crowd cackle, jeer and applaud Fish Features as if they were at the football made me think again.
Do I really want to share our green and pleasant land with a bunch of jeering monkeys so excited by Salmond's lies they start beating their chests and foraging amongst each other for fleas?
No I do not. I am tempted to say we should leave them to congratulate each other in their dreadfulness."
Last night the main evening news on the BBC ran a piece about Jim Murphy, the Labour MP who has been campaigning against independence. Jim has decided to suspend his campaign after someone threw an egg at him and he was subjected to heckling. He was the victim of "nationalist mobs" and is now consulting with the police.
Mentioned in passing was news that another man had been questioned by the police after death threats were made against Alex Salmond.
The egg was clearly much worse than death threats in the eyes of the BBC news bosses.
Here is a beautifully written account of one of Jim Murphy's soapbox sessions by Ray MacRobbie on his blog
Still Raining, Still Dreaming.
The BBC's news bulletins are very carefully controlled and have been consistently slanted against the Yes campaign, but the BBC is a very big place and there have been examples of much more balanced programmes. This blog recently mentioned a
debate
chaired by Jim Naughtie at the Edinburgh Festival, for example.
It was also rather subversive of someone at the BBC to broadcast this week's edition of
Who do you think you are?
in the middle of the independence campaign.
This featured the Irish comedian Brendan O'Carroll of
Mrs Brown's Boys
fame. O'Carroll emerged as a very likeable, eloquent and highly intelligent man who wanted to find out who had gunned down his grandfather at home in Dublin in 1920. The answer turned out to be an elite unit of the British army deployed in the Irish capital to try to suppress the movement for Irish independence with a campaign of murder and dirty tricks.
But back to the present day.
The defection of Tory MP Douglas Carswell to Ukip; claims that he is just the first of a number of other Tory and Labour politicians planning to run into the arms of Nigel Farage; the imminent return of Boris Johnson to Westminster; the uncertainty created by Cameron's promise of a referendum on EU membership; Labour's decision to continue George Osborne's austerity programme - austerity for everyone except the rich, that is: if you live in Scotland and can vote in the referendum on 18 September, why on earth would you want to sign up to this?
Voting for independence is looking increasingly like the least risky option.
Sadly for Wales, we have no choice at the moment. Whether we like it or not, we are passengers on the good ship Better Together which seems determined to set sail in stormy and unchartered seas with several gaping holes in the hull. Third mate Carwyn Jones is handing out the concrete life jackets, and telling us that he will veto any attempt by Scotland to use the pound.
Carwyn doesn't have the power to declare a bank holiday leave alone any say in what the Bank of England does. Somebody had better tell him.
That is why it is important that as many people as possible turn out in Cardiff on 13 September to show Carwyn, Owen Smith and all the rest that a lot of people in Wales support independence for Scotland and are becoming increasingly worried about being shackled to a right-wing, xenophobic state which panders to the prejudices of Clacton man (and woman).
Details of the event can be found
here
, and there is an impressive line up of speakers. There will also be buses leaving from different parts of Wales, including Aberystwyth via Carmarthen. Again details can be found on the same website.
We started with a quote from
The Sun
. Let's end with something rather more inspiring.